What does a limited powertrain warranty cover?
By Product Expert | Posted in FAQs on Friday, February 26th, 2021 at 10:12 am
Limited Powertrain Warranties: What They Cover and Why They're Good
Warranties are excellent. They're a promise to a customer that the product they spent money on will work. And if the product doesn't work, then the customer will get a replacement. When it comes to something as expensive as a car, that's incredibly reassuring. However, the wording can be confusing.
Here's what a limited powertrain warranties covers.
---
---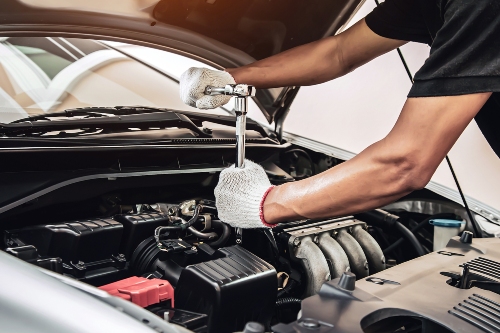 Limited Powertrain Warranty
The powertrain is made of up of three parts: the engine, the transmission, and the drivetrain (FWD, AWD, etc.). A limited powertrain warranty is the agreement that a manufacturer or seller will replace specific parts related to any of those three systems for a certain amount of time or miles. As you may have noticed, though, it says "limited powertrain warranty," not "all-inclusive powertrain warranty." So, the question is which parts are actually covered? That depends on the manufacturer and/or seller offering the warranty.
Our Lifetime Powertrain Warranty
Here at CrossPointe, many of our vehicles come with a free lifetime powertrain warranty. That means your CrossPointe vehicle is covered for as long as you own it, no matter how many years or miles you drive it. Which parts are covered? We're glad you asked.
Engine: Cylinder block, cylinder head(s), rotor housings and their internal parts, intake manifold, exhaust manifold(s), timing gears, timing chain(s) or belt(s), timing chain or belt tensioner(s) and timing chain or belt cover, valve cover(s), flywheel or flexplate, ring gear, harmonic balancer, oil pump, water pump, oil pan, turbocharger or supercharger housing(s) and their internal parts, waste gate, and intercooler.
Transmission/Transfer Case/All-Wheel Drive Assembly: Transmission case, transaxle case, transfer case and their internal parts, and torque converter.
Drivetrain Assembly: Final drive and axle housing(s) and their internal parts, universal and constant velocity joints, drive shaft(s), drive shaft yokes. Front-wheel drive and rear-wheel drive.
Want to Learn More?
To get more info on the CrossPointe lifetime powertrain warranty, visit the page dedicated to it on our website. If you have any questions, feel free to give us a call. We'll be happy to help.